Tank's Tirades 1.4: "Won't Somebody Please Think of the Fans?"
Helen Lovejoy, roller derby bout production advocate
In the past 5 years I have read many interviews, blogs, and articles with people in roller derby proclaiming over and over again like a broken record, "It's a sport, it's a sport, it's a sport."  Rumor has it if you play that record backwards it tells you to never wash your pads.  Roller derby is a sport. That I will agree with. But the moment your league decides to have a bout, and charge fans admission to it, it becomes something else: A sporting event.
But the moment your league decides to have a bout, and charge fans admission to it, it becomes something else: A sporting event.
Bout production is one of the most overlooked parts of roller derby. Few teams have a solid fan base, with hundreds of people coming back game after game and buying season tickets. Perhaps by investing more in creating a dynamic fan experience, more true derby fans will emerge. Ultimately, this will be very good for the skaters themselves, both financially and insuring that there will be a next generation of skaters.
The beauty of sports is they are a form of entertainment where the outcome is unknown.  Sure, "we all know" that the Big City Derby Girls are going to beat the Coat Rackville Roller Damez, but the Damez might upset them.  While you can't control that, you can control your bout production, and that is a safety net that you need.  Why?  Because when the hometown Damez are getting blown out by 100 points after the first period, the first time fans that came tonight – the ones who don't understand the game and are bored to death seeing the home town team get smashed – probably aren't coming back.  There needs to be something to distract them from the slaughterfest.
Sporting events are what the name implies, an event. So many times in derby the question of sport or spectacle comes up, but the right type of spectacle is something that is needed.  When my girlfriend and I go to see other sports, we don't generally know the rankings or the players, and in the case of watching the Cincinnati Cyclones (minor league hockey) we generally don't even know who the other team is.  What we do like though, is the jumbotron, the music, the half time shows, skits, dancing, and other things.  No matter whether our team is winning or losing, if there is a break in the action, we are entertained, and it is worth the money we paid for tickets.
Imagine asking someone to do the same thing for 3 hours. No matter what, they are going to get bored.  This is what watching roller derby with crappy bout production is like. You need things to break up the repetitive nature of the sport, especially in blow out games.  Remember that derby draws non-traditional sports fans who are going to be looking for things they can relate to, such as music, humor, and drama.
Remember that derby draws non-traditional sports fans who are going to be looking for things they can relate to, such as music, humor, and drama.
And making it a family friendly atmosphere helps to insure that you get families to come; kids are so important to this sport as they will become the derby players of tomorrow.  What that means is going to be different depending on what part of the country you live in, but simple things such as having mascots and the skaters sign free autographs after the game help to connect them.  Families also bring more money to your league than the regular fan as they come in groups which means more ticket sales.
So what can your league do to make your production better?  Here are some proven strategies to help keep the crowd's interest in the roller derby experience.
Showcase your strengths and hide your weaknesses:  Whatever it is that your league does well for bout production should be a centerpiece, and what you don't do well should be tucked away and minimized to the public.  For example, if your venue has multicolor lighting, use that for introductions at the beginning of the game to draw in the fans.  If your sound system sucks, have the announcers talk only about the important stuff to minimize how bad it sounds.
Be entertaining:  The fans love to see the skaters have fun.  Waving to the crowd, dancing during time outs, motioning for the fans to get loud, etc.  No one wants to see robots. They want to see players who are having fun and give them something to cheer about.  Also encouraging fans to come down to the floor after the game for autographs will help to build that skater/fan report.  If you don't want to play in a library, have some fun and the fans will too.
Use Announcers that Know How to Announce:  Your announcer is the voice of your league to everyone who comes to see your bout.  Get someone who is likeable, intelligent, and can communicate.  This should not be a position that you throw someone into. Use someone who represents the good qualities of your league and the fans actually want to listen to.
A DJ That Doesn't Play the Same Punk Songs Every Bout:  Look we all like "The Ace of Spades" and Social Distortion, but we don't need to hear them EVERY BOUT!  Find someone to spin some tunes that has an ear for music.  At the very least have your announcers, run a diverse iTunes list.
Yes talented DJs and Announcers Exist:  Before I receive the comments of "A good Announcer or DJ isn't easy to find", it is simpler then you think.  Hold a few bar events were people try out for either job.  Have would-be announcers announce old game footage on a TV live on mic in front of the entire room.  For the would-be DJs, have people sign up for half hour sets, with the prize of being the league DJ plus a goody bag of your merch.
If You Don't Have AC, Don't Bout in the Summer:  Sitting in a sauna and watching bouts on your smart phone for a half hour is fun.  Sitting in a sweat box and watching roller derby for 3 hours is not fun, and you have to spend an extra $8 on Gold Bond powder.
Chairs are Your Friends:  If you are going to charge $10 or more for a game you need to have chairs.  Seriously, I ain't some hippie that came to play bongos on the floor.
Everyone Loves Mascots:  Mascots rule.  Kids love them, they are cool to get your picture taken with, and they throw out free merch that fans love.  Mascots also serve as the comic relief for the evening, which is helpful when blowouts occur.
Keep the Show Moving:  Quality, not quantity.  Have you ever been to a 3-hour movie? It's a commitment.  A 3-hour bout is the same thing.  Keep your game moving with limited official time outs, short intermissions, and halftimes.  Having a good Head Ref will happen the first one to avoid those long 5-minute official time outs.  While it is great to have the hula-hoop, fire-dancing jam skaters do your halftime show, no one paid for a ticket to see them. They want to get back to the roller derby action.
Technology is Sweet:  Video boards, flat screens, promo packages, etc.  People love moving pictures, lights, and sound.  If you got, use it.
So often in roller derby, people think of the sport in their own little microcosm. This thing has become such a major part of their lives, so how can it not be just as important to anyone else it touches?  The truth is for most people, it isn't.  It's something fun to do on a Saturday night every once in a while.  These people have a choice where they spend their money and if they aren't treated with that respect and don't have fun, they aren't coming back.  And when they don't come back, they don't bring their sons and daughters with them, the most important part of this equation, the future skaters.  While practice and training will make your league better in the short term, better bout production will ensure that it sticks around for the long haul.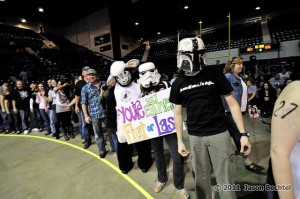 Thank to Jason Bechtel for this month's featured photo.  Tank can be followed via Twitter at www.twitter.com/tankofalltrades
Images courtesy of Jason Bechtel