Tuning in for Day 2 at an unreasonable hour, I thought I'd crunch some numbers over coffee. You thought my math was bad yesterday- let's see what happens with no caffeine influence. I wont be writing up any recaps or being evenly analytical here- just more pretty graphs and stuff. If you're curious where I'm basing these stats, check out yesterday's Staff Picks preview post. This is what happens when they leave me in charge…
First of all, let's establish the real figures from yesterday- the outcomes of the first 4 games of Uproar on the Lakeshore:
Game 1: TXRG 72 vs. BAD 59
Game 2: Charm City 249 vs. MNRG 119
Game 3: Philly 213 vs. MRD 53
Game 4: Oly 214 vs. Nashville 53
Friday's Scores & Outcomes Compared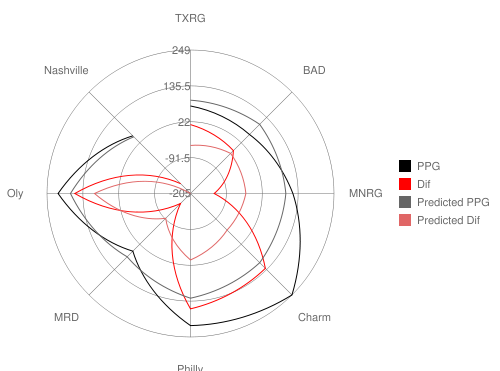 This is how yesterday's scores compared with our predictions. Charm City and Philly both far outscored their predicted average, but those scores come from first-round match-ups so we're likely to see those PPG's get closer to their prediction today. MNRG and MRD both performed close to their predicted scoring, but both gave up more points than expected and ended up with larger point differences than we predicted. Oly, Nashville, BAD, and Texas all performed close to our predictions… even if we didn't foresee that TXRG/BAD outcome.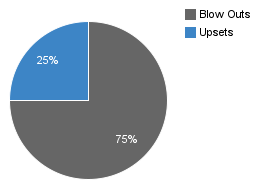 As for quality of bouts, well- let's just hope the rest of our predictions for close games and good match-ups come through. If my heart wasn't pounding (and blood boiling) following the BAD/Texas bout, I coulda napped through the rest of the day. Fortunately I've recently found peace in blow out spectating through the wisdom of Hellarad.
How Our Staff Picks Stack Up
Note: Vince Hannity's picks came in after I posted yesterday's predictions so I've added him to the pool but have not adjusted our original averages.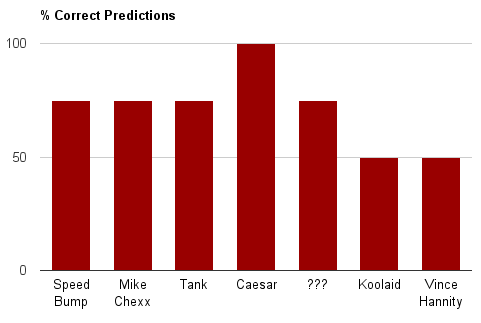 Apparently Caesar is smarter than I give him credit for- he was the only RDIT contributor to properly call the Texas win.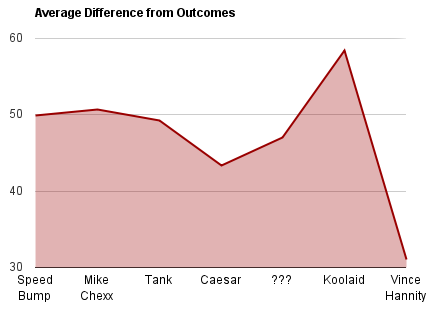 But when it comes to predicting scores, Vince Hannity blew the rest of us out of the water with an average 31pt difference from actual. That's mostly thanks to calling the Philly/MRD game within 2 points for each team- he predicted Philly 215 to Mad's 55 compared to the actual Philly 213 to Mad's 53. I don't know where this guy got his info, but I think I'll start listening when he spouts wisdom from now on. Too bad he's 2 for 4 in his bracket.
Enough numbers, I'm going back to bed. Highlights or comments on yesterday's games? Let's hear it in the comments!